When I'm planning my healthy SVT prevention meals, I like things to be fast, and easy. While I do enjoy cooking sometimes more than others, I'm not a chef and really don't want to spend a lot of time in the kticthen when I have a million other things to do. Since healthy eating isn't optional when you are living a life of SVT prevention, we need simple yet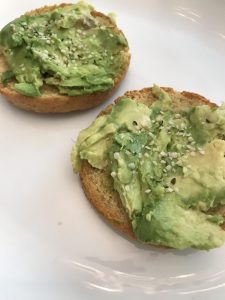 nutritionally dense meal ideas.
This is an effortless, nutritrious breakfast that takes only 7 minutes to make…It's PALEO, and meets my Fat-Fiber Protein winning combo which I explain in my upcoming e-guide called, The SVT Prevention Diet, due out this Spring.
For the Avocado Toast:
I use Mikey's brand paleo english muffins. (These taste best when they are toasted.) I get them in the freezer section of Whole Foods. FYI, Paleo is gluten free, which meets my SVT prevention guidelines (that I also explain in the upcoming e-guide). Paleo also means grain free so if you are doing low carbs or no grains this fits the bill.
Spread with a smear of coconut oil. I use any brand as long as it is unrefined
then add your avocado and mash it
Sprinkle with pink Himalayan salt and a few hemp seeds for protein
For the Green Smoothie:
1 Banana
1/2 avocado ( I used half on the paleo muffin and half in the smoothie) Avocado will make any smoothie very creamy and delicious
1 scoop of Kale powder
1 pitted mejool date
1 large cup of baby spinach
1 teaspoon Cod Liver Oil
1 Dropper Magnesium Oil
1 teaspoon Spirulina
1/2 cup unsweetened Almond Milk
1/2 Cup Water
1 teaspoon raw almond butter (for a little more protein)
1 teaspoon local honey (good if you suffer from allergies and also good for potassium))
Blend and enjoy!
I love green smoothies!
It's important to think green at every meal, even breakfast. You can never get in too many greens!
Fror more meal ideas visit my recipe page
To hear more about the SVT Prevention Diet such as the exact release date and to read excerpts from it, be sure to sign up for my emails here
Love Your SVT Coach,
Laura
xo