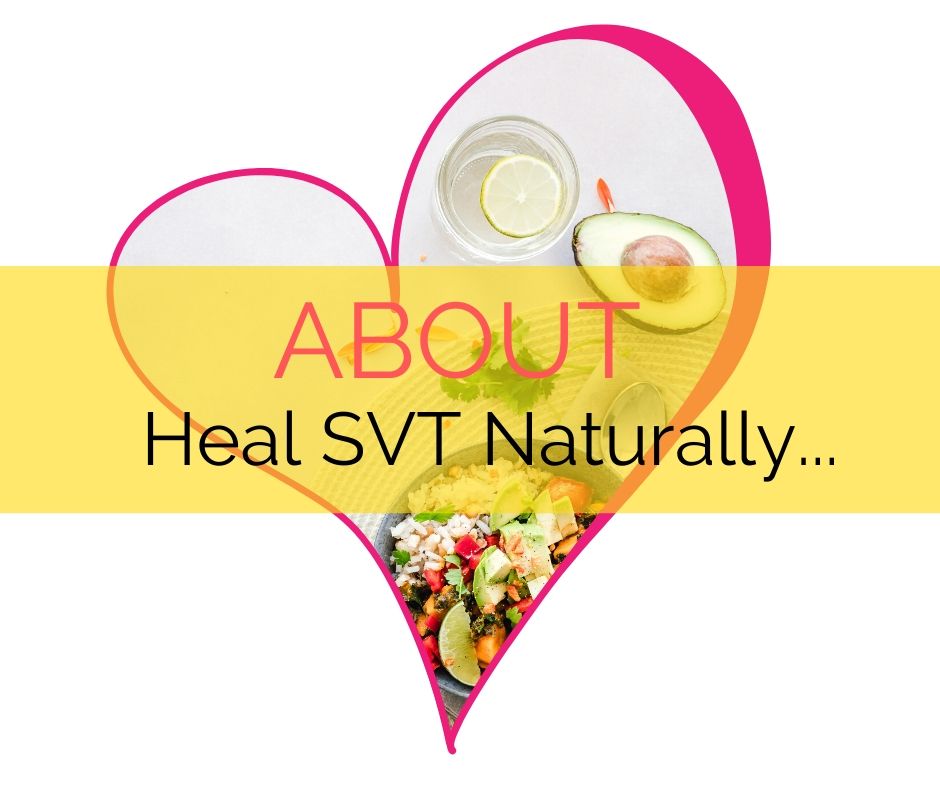 10 years ago, I was suffering desperately with Supra-ventricular Tachycardia, anxiety, POTS, adrenal fatigue and digestive issues. Heal SVT Naturally is the result of my quest for healing.
Heal SVT Naturally is a website and resource for people with Supra ventricular Tachycardia and related co-symptoms such as anxiety, panic attacks, digestive issues, adrenal fatigue, headaches and POTS who are searching for more ways to help themselves than the traditional protocols of medication and ablation.
My work includes the missing treatment options in the current way of viewing and treating SVT by addressing your DIET, MINDSET, LIFESTYLE and the underlying ROOT causes of the condition.
Imagine if there was another way to VIEW and TREAT SVT…
What if you actually had MORE OPTIONS to HELP YOURSELF than just medication and ablation for SVT?! What if there was also a way out of the cycle of not feeling well and susceptibility to chronic SVT episodes? What if you knew exactly what triggered your SVT and were armed with knowledge on what to do to avoid those common triggers? What if with lifestyle, dietary and mindset changes you could get your SVT episodes under control on a root level and restore balance to your system? What if the positive changes you experience in your SVT expanded into further transformation into other areas of your life? What if you were able to go from being an SVT victim to feeling empowered and equipped to Self-heal?
Your options are NOT as limited as you think! You can heal your SVT naturally and TRANSFORM your life!
I believe that SVT is the representation of long-standing depletion, mineral deficiency, the wrong diet, digestive dysfunction, and other factors that your sensitive body can no longer withstand. I believe that SVT is a wake-up call and your hearts way of trying to generate awareness and pull you in a new direction. Anytime health breaks down, it facilitates a LISTENING process. I believe SVT is here to help you listen much more closely to your physical, nutritional, emotional and energetic needs and urge you to become more skilled at meeting them. I believe that when you get SVT you are at a cross-roads. If you choose not to listen to the suffering that SVT is indicating, your heart will continue to speak to you through suffering and symptoms until you do. If you do listen and view your SVT as a teacher and healing opportunity, then SVT will be nothing more than the catalyst you needed to improve your life and health. I provide you with a roadmap to lead the way.
Heal SVT Naturally ESSENTIALS
Learn how to:                                                            
Eliminate your SVT using natural methods
Learn exactly what is depleting you and putting you at risk for SVT
Identify your unique SVT triggers and learn tools to address and AVOID them!
Understand the root causes of your SVT and heal at a core level
Learn how to use Dietary, Lifestyle and Intuitive strategies to eliminate SVT for good
Get to a point where you NO longer worry or even think about SVT
Feel empowered, vibrant, optimistic, and in control of your health
Learn to LISTEN to your HEART and trust your inner guidance for what is best for you
Your SVT condition can be a transformational opportunity and I invite you to view it as such! Get started with the tools below…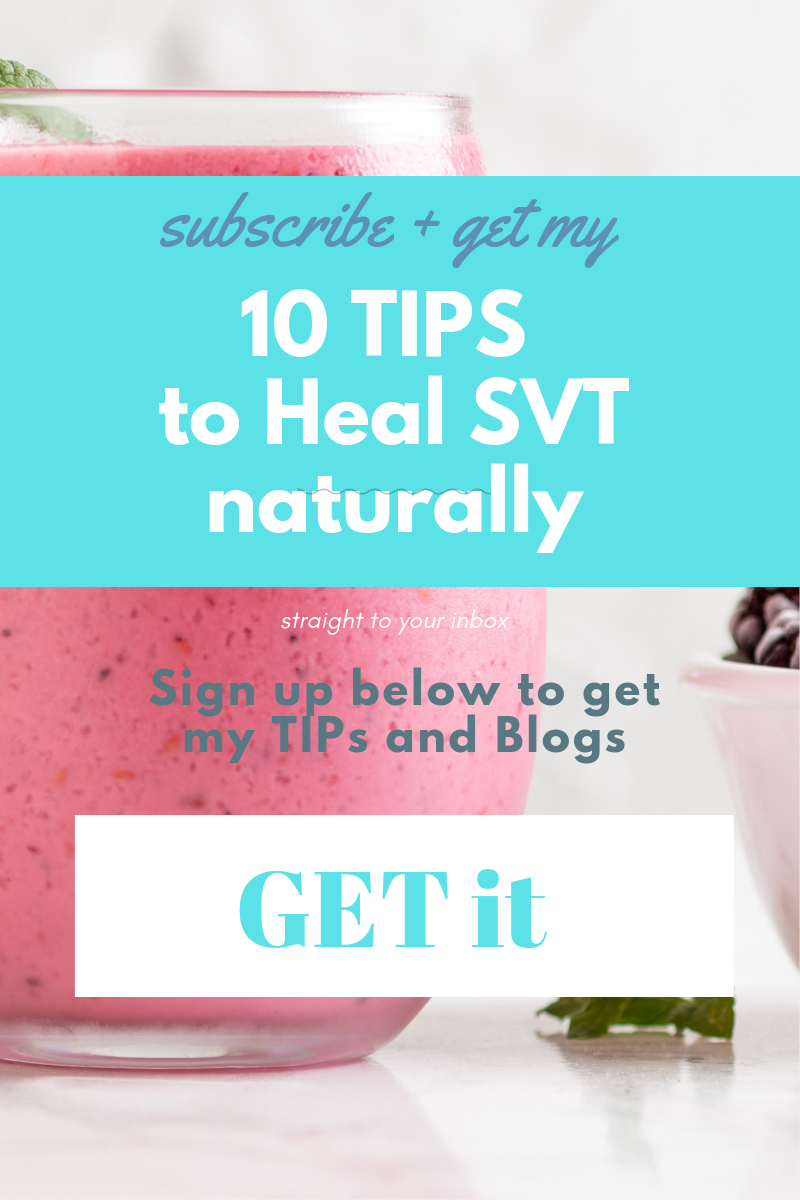 START with my FREE e-guide
The Top Ten Tips to Heal SVT Naturally is my FREE gift to you. It is a 14 page digital download that shares some of the BASIC and essential  information that you need to start the process of Healing SVT Naturally. Get it immediately when you sign up for my emails.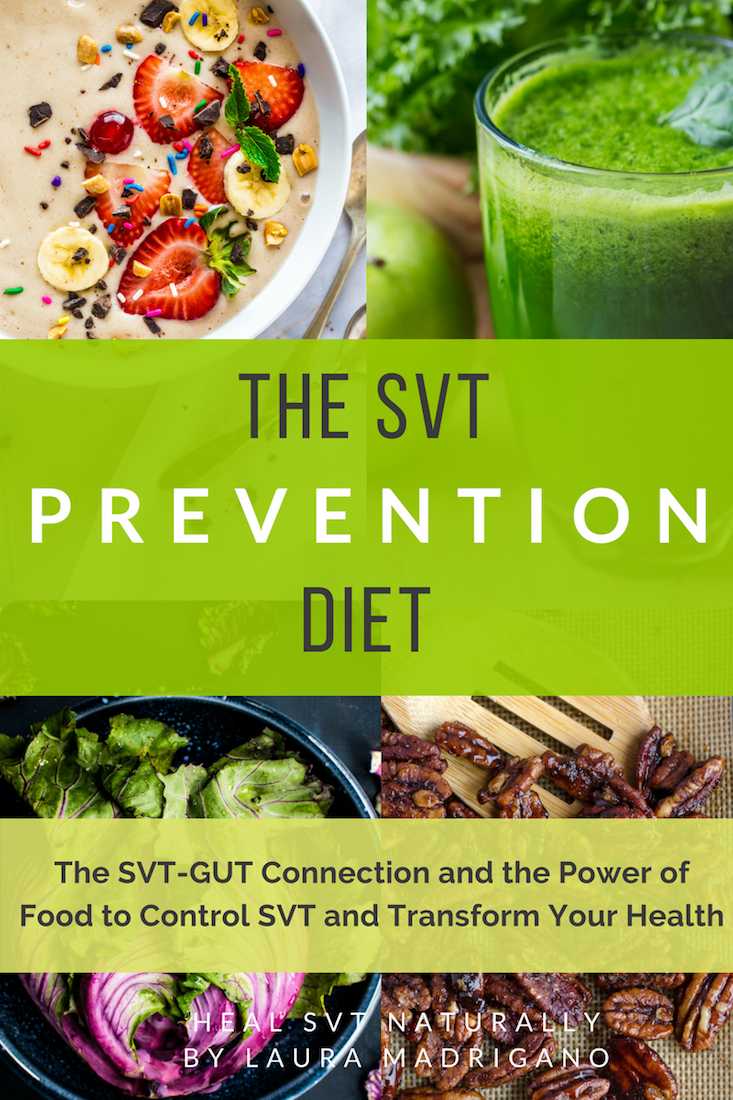 The SVT Prevention Diet
What should you eat and what should you avoid? This e-book will explain EVERYTHING you need to know to navigate how to use DIET to help yourself. Learn about the SVT-GUT connection, how emotional eating is impacting your SVT and how lowering your body burden can help you eliminate SVT.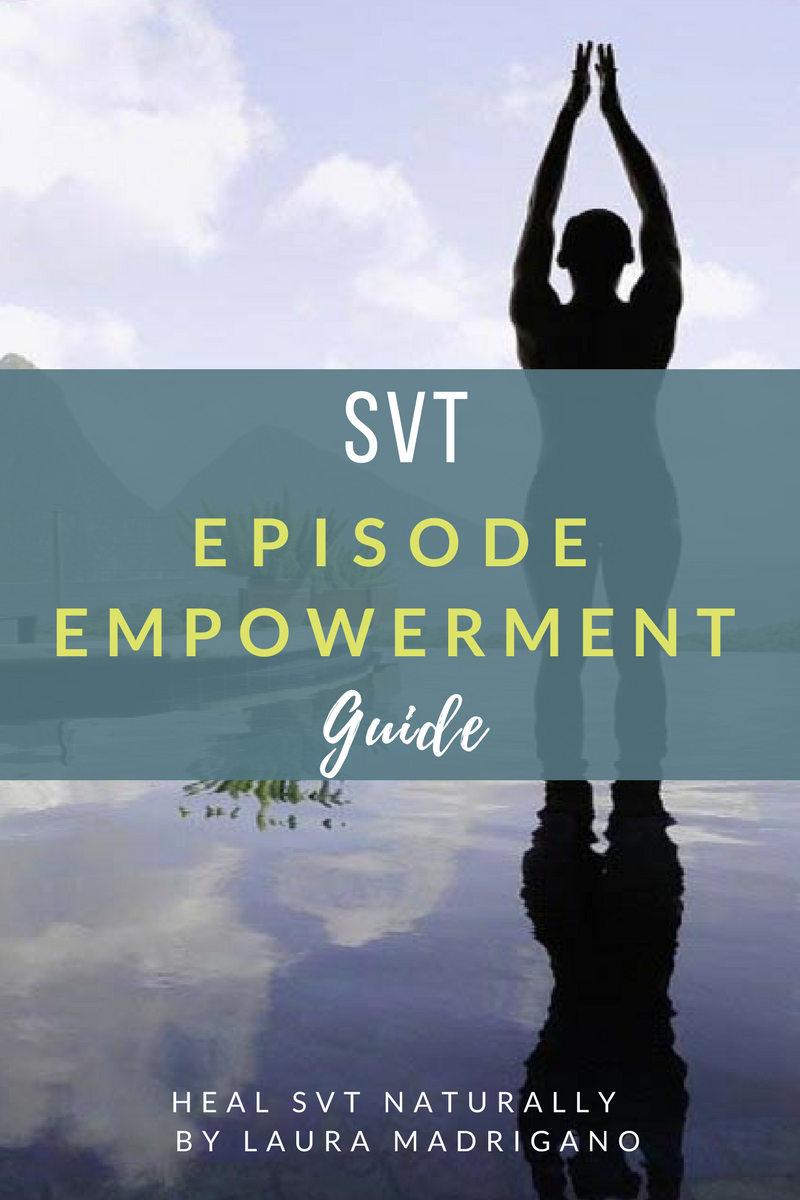 Sick of SVT episodes controlling your thoughts and life? Learn how to empower yourself. The tools you need to break and SVT fast, the best methods to use and how to create an episode empowerment kit.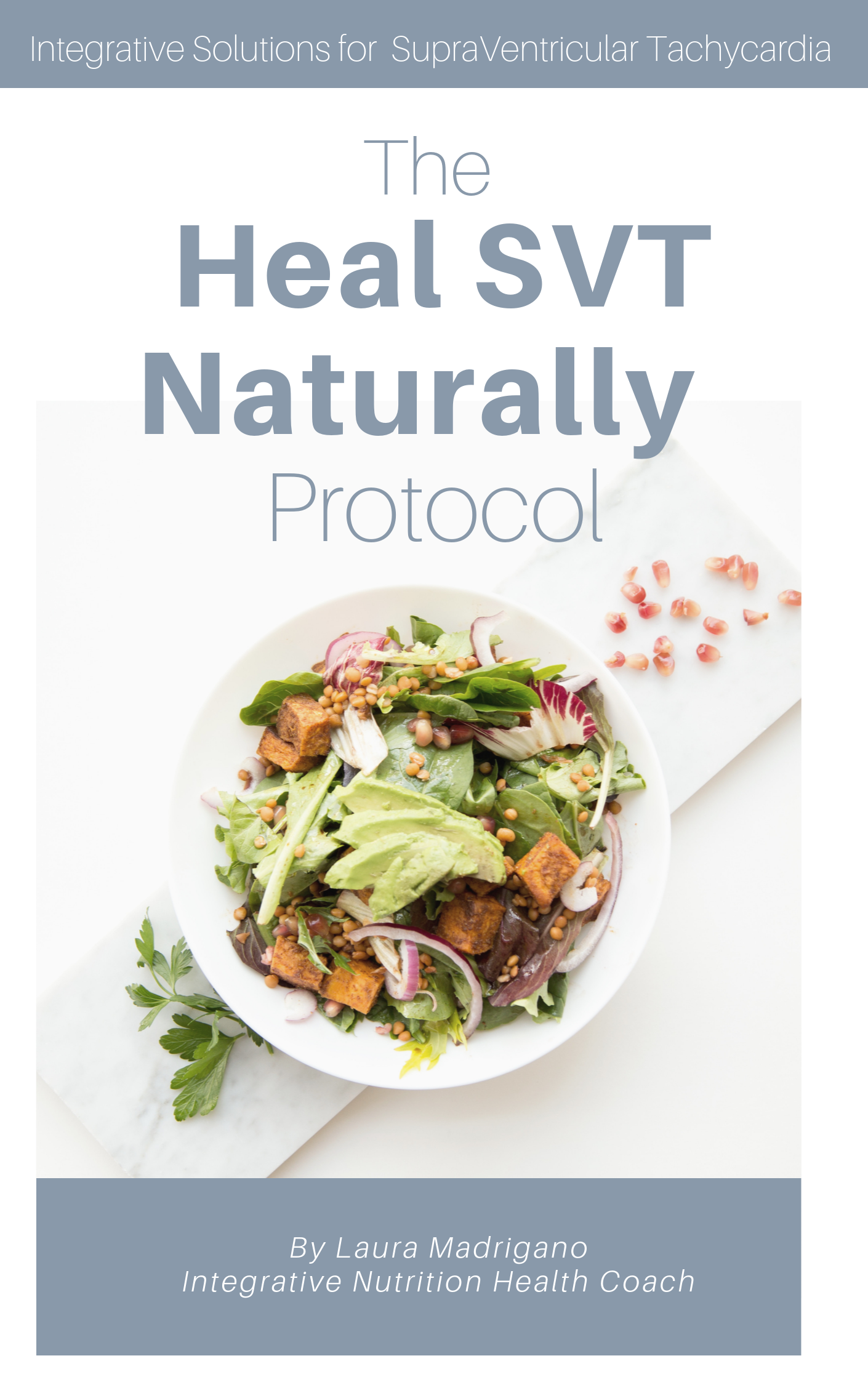 The Healing PROTOCOL
Coming March 2020. My Heal SVT Naturally Protocol is an on-line course and virtual coaching program that will be ready in March 2020. Sign up below to stay informed on when it is available and all the details!
What Others are SAYING...
"Laura I have been searching for answers to a holistic approach to SVT for almost thirty years and the information you offer is unbelievable and covers every aspect of causes and dietary approach along with supplements and recipe's! You are "Light Years"ahead of everything I have been able to get my hands on and your compassion and concern is woven into everything you do! God Bless You for all of the work that you are doing to help us! You will never know how much all of the hours you must spend mean to the people that are fortunate enough to receive your valuable information! A couple of months ago I ran across an article on a study using Etripamil nasal calcium channel blocker nose spray for stopping SVT attacks in minutes instead of Adenosine in the ER rooms it is something that you can use at home if it is approved after the study! I have reservations regarding this but it is good to know that try are seeking other options let us know what you may learn regarding this!"
"Thank you for giving me the definitive view of my SVT episodes.
I now go from a frightened view to one of hope."
"You are an angel worker. I am on a good gluten free diet thanks to you, and I have lost 12 pounds on top of it since I found you. No SVT for one month now, and it used to be a weekly occurrence."
"Hi Laura, I came across this site today after 9 years of insanity and after reading your story, I am floored. You explained my life. I would love to connect with you and see if we can work together."
"I actually started crying when reading this. I developed SVT after my daughter's birth in 2003. I had no idea what was going on with me. Over the course of 14 years, I've had 6 episodes, which the most recent landed me in the hospital. Add a panic attack on top of it and it was all bad. My cardiologist prescribed me a beta blocker, which is making me feel worse.I think once I contain my anxiety and stop allowing it to control my life, everything will be much happier, positive and less scary thinking about when my next SVT will be. Your blogged soothed me and in all actuality, made me feel so much better. Thank you for being an inspiration. I will continue to follow you and read your blogs."
To CONTACT Laura Please email: SVTcoach@gmail.com