HEAL SVT Naturally
Integrative Solutions for Supra-ventricular Tachycardia
Learn how to use an Integrative Approach for SVT
DIET   SUPPLEMENTS  LIFESTYLE CHANGES   EMOTIONAL HEALING WORK   SELF-CARE 
I  used to suffer with random SVT episodes and the debilitating anxiety and FEAR of episodes that goes along with it.  My life and health felt out of control. I didn't want to go on heart medication for the rest of my life and I was scared to have ablation.
I wanted MORE healing options! If you feel like me, then you will be happy to learn that there is so much that you can do to help yourself manage and prevent SVT episodes using diet, supplements, lifestyle changes and more. I believe that there are underlying ROOT causes to SVT and that your SVT is the way your body is communicating with you. Its up to us to try to figure out what it is trying to say.
I help people learn about how to explore why they have SVT by searching for things like undiagnosed food sensitivities, mineral depletion, hormone imbalance, stress, and more. 
I have so many resources to share with you!
xo Laura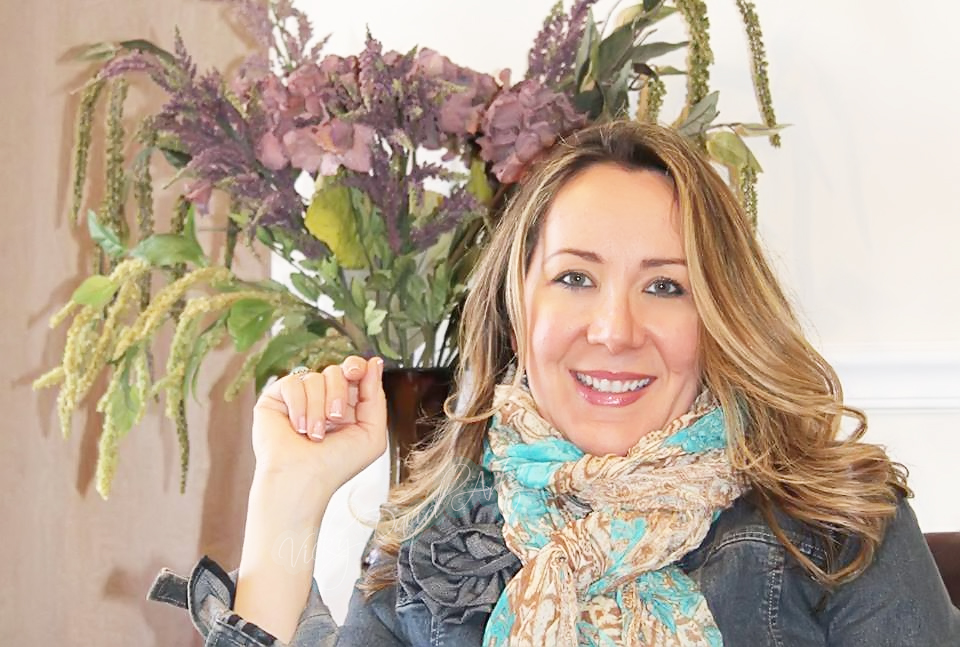 I include the missing treatment options in the current way of viewing and treating SVT by addressing your DIET, MINDSET, LIFESTYLE and the underlying ROOT causes of the condition.
Start with my FREE e-guide
I know that you are suffering right now. I have been in your exact shoes! Start here and download my FREE eguide called The TOP TEN TIPS to HEAL SVT naturally. It will help you get started right away to learn some of the KEY things you can be doing to help yourself! 
DOWNLOAD my FREE e-guide, to learn 10 things you can start doing immediately to help yourself!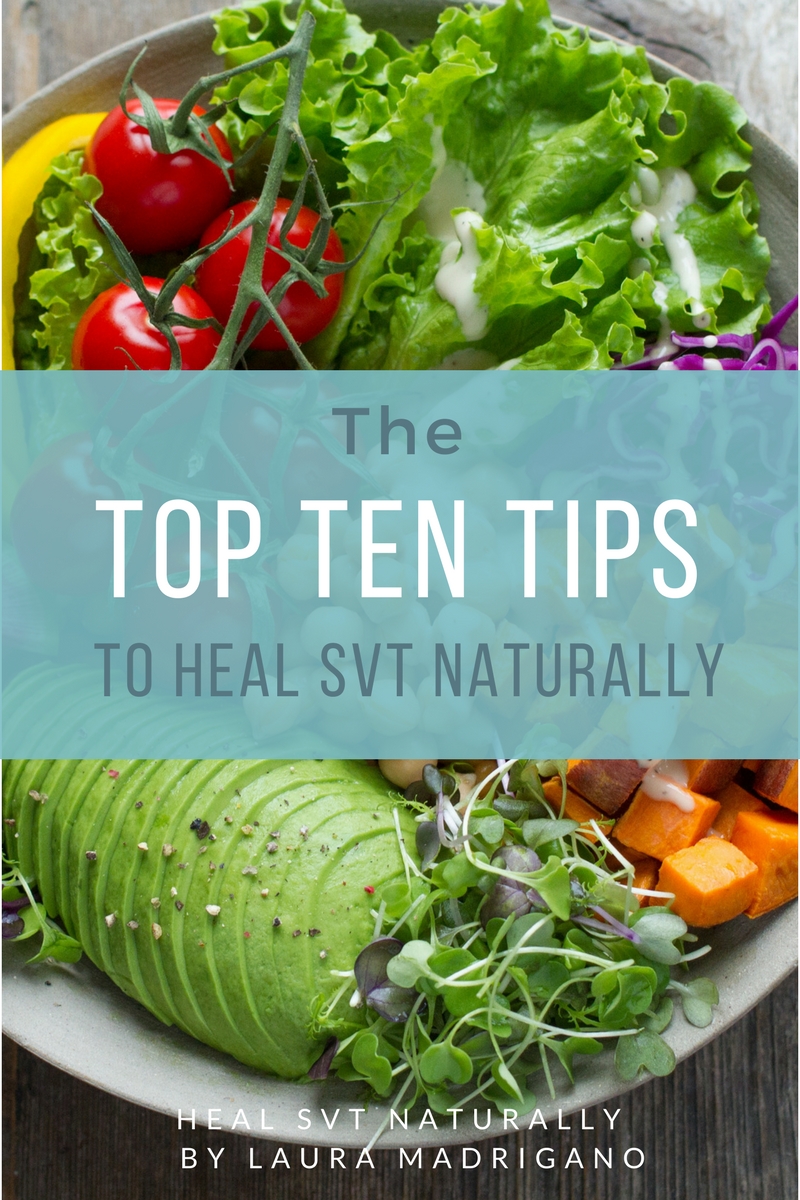 The Heal SVT Naturally Approach to SVT…
Is INTEGRATIVE, I look at the physical, nutritional, emotional, spiritual and energetic reasons why you have SVT

Views SVT as a SYMPTOM of deeper imbalances…

Offers the missing treatment options in the traditional way of viewing and treating SVT by empowering you with lifestyle changes that are WITHIN your CONTROL..

Explains how diet, gut health, hormone balance, undiagnosed food sensitivities, stress, emotions, mineral balance, and lifestyle choices are contributing to your SVT and therefore are also the solutions..

Helps you see your SVT from a new perspective, to view SVT as the way your body is communicating with you…

Identifies what SVT Triggers are and how to manage them

Helps you apply lifelong SVT PREVENTION as a way of life
Digital e-guides
to download right away! 
Personal Coaching
Work with Me
Classes & Courses
Learn More
Is this YOU?
You are suffering with acute SVT episodes.

You have SVT and co-symtoms such as anxiety, adrenal fatigue, POTS, and/or digestive issues.

Your FEAR of SVT is growing! You are constantly worrying about the next SVT and may be afraid to be alone, travel or do the things you used to do.

You dread going to the Emergency Room for adenosine.

You notice that you are more likely to have an SVT when you are tired, stressed, overate or are dehydrated.

You are not sure if you want to go on lifelong medication.

You wish there were more options to help yourself and are searching for guidance, natural remedies and lifestyle answers.
The SVT PREVENTION Diet
Learn everything about the SVT-GUT connection and how to use DIET as a tool to reduce, nagged and PREVENT SVT
The SVT Prevention Diet, is a MUST READ for anyone with SVT.
The SVT Prevention Diet, is the roadmap that I used to completely HEAL my own SVT and related POTS, anxiety and digestive issues
Here's What you Will Learn: 
How Food + SVT are linked
The SVT-GUT connection
How to use food to prevent SVT
The basics of digestive function
The ROOT causes of SVT
How a high Body Burden contributes to  for SVT
How to care for your lymphatic system as part of the SVT healing protocol
The the foods are causing sickness and exacerbating your SVT
Which foods will reduce inflammation and prevent SVT
The roadmap to optimize absorption essential nutrients and minerals that are necessary for healthy heart rhythm function.
Explain DEPLETION as a root cause of SVT and what to do about it
Give support for Emotional Eating and other SVT Prevention obstacles
Advise on food sensitivity lab testing so that you can have proof and incentive to commit to eliminating such foods in order to heal your gut and your entire body.
Guide you to adopt new ways of choosing and preparing food, and to use food for what it is actually meant for–
Identify supplements and super foods that will support your SVT management.
Explain supportive tactics such as intention setting, vision boarding, and journaling to help you in your transformative efforts.
If you are ready to learn a WHOLE new view of your Supra Ventricular Tachycardia, this guide is a great resource!
" I have been searching for answers to a holistic approach to SVT for almost thirty years and the information you offer is unbelievable and covers every aspect of causes and dietary approach along with supplements and recipe's! You are "Light Years"ahead of everything I have been able to get my hands on and your compassion and concern is woven into everything you do! God Bless You for all of the work that you are doing to help us! You will never know how much all of the hours you must spend mean to the people that are fortunate enough to receive your valuable information"
""Thank you so much for giving me the nudge I need to clean up my life, and get healthy again!" "
" Im so glad I found your website- you are exactly what Ive been searching for! Great info and advice for someone like me who is trying to figure out this whole SVT thing"
"I had experienced health issues for YEARS and was beyond frustrated with not being able to figure out what was wrong…I was sick and tired if being sick and tired ! .. and then one day I happened to stumble on to the website Heal SVT Naturally. As I read Laura's story I had hope! It was as though she had climbed into my body and was expressing every single, symptom and feeling I had ever experienced ! I wasn't crazy after all. That was my beginning to understanding my heart problems. She was an answer to prayer! She has helped me so much!!! She and Kris Carr are two of my favorite people to follow regarding health issues!"
"Im literally crying in tears because I have a sense of relief in finding your blog. I'm so happy that you can be contacted..I'm very excited and relieved that there might be something out there that can help me!"
"Hi. I am a medical resident specializing in cardiology…. I have always been lactose intolerant and after reading the blog will try to be on a gluten free diet."
"Firstly I'd like to say thank you for all the information and guidance you put out regarding SVT. I've been reading your website for around the last 4 years, I then started to follow you on FB. It offered me a sense of normality and reassurance that I wasn't alone in having SVT. All the other things on the internet were very extreme and dramatic, so much so they once gave me a SVT!!!!I love your posts and your blogs, very helpful."
Sign up for the Heal SVT Naturally emails...
I will also send you my FREE e-guide, the TOP TEN TIPS to HEAL SVT Naturally….