It may be surprising to learn that the

food

 you are eating

directly impacts

 the frequency of your SVT episodes as well as your overall health.
 A Whole New Way of Thinking
One of the first areas to evaluate when you are trying to Heal your SVT naturally is your DIET .
THE SVT GUT CONNECTION is a primary focus of my philosophy. 
The most important work that you can undertake will be to determine the foods that are making you sick, the lifestyle and emotional habits that influence your food choices, and how to transition to a healthy diet.
My own struggles with food
Over the years I had many signs that my food choices and diet were not working for me, but didn't know to connect any dots to my SVT or my health in general.  I had no idea that over-indulging in sweet, processed foods, and carb dense meals such as pizza, bagels, pasta and burgers were making me constipated, tired, restless, sleepless, depressed and stressed. It was also pushing my body over the edge to seemingly random SVT episodes.
I had to become my strongest advocate and seek my own answers.
With the help of a Health Coach and Naturopathic doctor, I was taught how to listen to my body, document my reactions to my food, get tested for food sensitivities, and ultimately change my diet and my health.
As a result, I removed gluten and white sugar from my diet and notable changes started to occur. Lifelong issues like constipation were resolved and loose stools vanished, migraines were reduced, my POTS vanished and SVT episodes and symptoms became less and less frequent. 
While describing these important SVT triggers may seem obvious now, these links and many others, took years to identify. Furthermore, I was frustrated that my doctors were not supportive of my findings. SVT research is not getting mainstream attention. Important and relevant connections to diet are not yet being drawn and documented in medical journals, except through my own experiences and observations of my clients and members of the SVT Facebook community.  In the medical world, SVT is still not considered reversible or manageable or related to anything other than having an "extra pathway" in your heart.
However, if you understand that food sensitivities, dehydration, digestion, nutrition and proper mineral absorption are associated with SVT, you can be the change agent in your own health!
This is why I created the Heal SVT Naturally approach and website.  I am here to empower you with the knowledge and skill set to take control of your health and your life.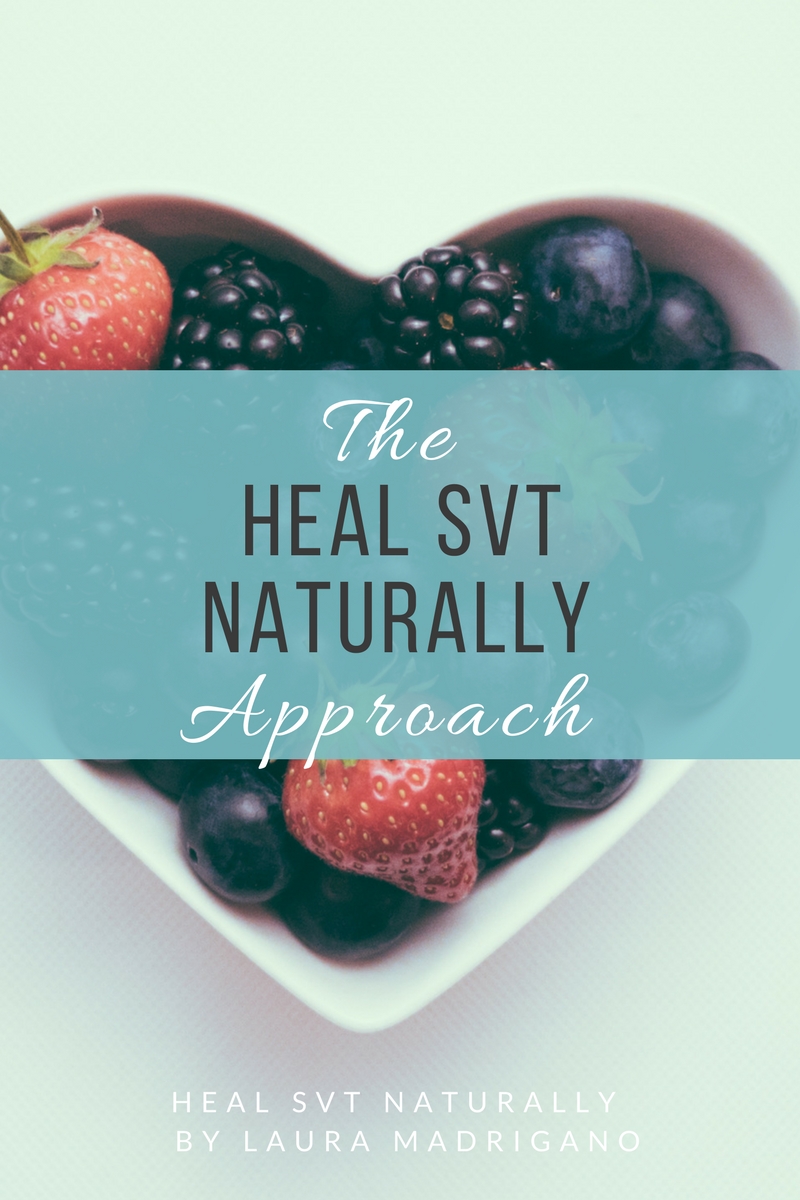 If you are ready to examine your diet as a ROOT CAUSE of SVT, I highly recommend that you begin by reading the FIRST FOUNDATIONAL e-guide prior to The SVT Prevention Diet e-guide so that you can understand the concept of root causes, how not only diet but also all the CORE FOUR layers are contributing to your SVT and all of the logic behind my Heal SVT Naturally approach.
The Heal SVT Naturally Approach: A New Way to Empower Yourself Through Your Journey of Healing.
This guide also gives you access to the Private Heal SVT naturally Facebook group.
What is the SVT Prevention Diet? 
What is The SVT Prevention Diet?
The SVT Prevention Diet is a Diet and lifestyle diet that gives you knowledge, inspiration and guidance plus recipes, menus and practical resources for taking your health to a whole new level.
This diet is based on the principals that have worked for me, uses the Heal SVT Naturally approach to identify and replace SVT triggers. It gives you the logic and the structure to decide what to eat with delicious and easy-to-prepare nutritious food.
The SVT prevention diet also takes into account that what is good for one person may not be good for another –such as your tastes, body type, food sensitivities and lifestyle–yet gives you basics ground rules to start building the diet that makes you both happy and healthy .
The SVT Prevention Diet is a way of life. And while it initially may feel somewhat restrictive, it will give you the FREEDOM of good health and a life without (or of fewer) SVTs!
The SVT Prevention Diet features:
Easy, fast and delicious recipes
Weekly menu plans with grocery lists
The SVT Food Stash for your handbag, briefcase or car
Primer on eating on-the-go and at restaurants
Recommendations for magazine subscriptions, books and phone apps
And much more!
Coming Soon, Nearly Ready, Release Date Aprox: End November 2017
The SVT Prevention Diet: The Power of Food and Self-Care to Control Your SVT and Transform Your Health
SVT and Gluten Free e-guide
release date: To be Announced. End of 2017
Many people with SVT have undiagnosed sensitivities to gluten and other foods which are causing or worsening their episodes. Gluten sensitivity is so common in our community with such a relatively easy way to get deep and reliable relief, that eliminating gluten is the most important consideration when creating an SVT prevention diet.
It was seven years ago that I stumbled on this discovery for myself. I had gone to a new health coach to address my exhaustion, headaches, digestive problems and anxiety. She immediately connected the dots between my symptoms and my diet of processed foods and gluten. Both of us were surprised that after a few months of healthy eating and eliminating gluten that all of my symptoms improved and my POTS and SVT were silenced!
Later I sought lab testing to confirm what I had now experienced to be my new truth—that I was very sensitive to gluten, and also to a few other foods.  The support I received to transition easily to this new diet, plus the consistent reward of living without any of my previous symptoms convinced me that this was a breakthrough that I had to share with my SVT community.
Since then I have helped my clients to transition to a gluten-free, allergy-free diet and have seen the same amazing results.  It is incumbent upon every SVT patient to learn about the possibility of their own food sensitivities as part of the food-gut-SVT connection.
The SVT and Gluten Free e-Guide will lead you through the most important steps to take control of your diet and reward you with the health and the life you deserve.
What you can expect:
Find out if gluten may be one of your key contributors to your SVT episodes.
Learn what gluten is and where it is found in your food, cosmetics and medications.
Get the rules for a gluten-free diet and the guidelines for transitioning with confidence.
Learn how to get lab tests for gluten intolerance and other food sensitivities.
Discover other symptoms of gluten intolerance that you may also have.
Receive comprehensive resources for living gluten-free with ease: recipes, menu-plans, SVT pantry, magazines, phone apps, support groups.
And much more!
There is no other guide like that is this designed for the SVT community. It is essential reading if you are serious about cleaning up your diet and giving yourself the best opportunity to heal your SVT naturally!
I overhauled my own diet as one of the first steps to take back control of my health.
The Heal SVT Naturally E-guide Series…
As an Integrative Nutrition Health Coach and fellow SVT thriver, I give you many tools to take on this challenge and to succeed!
The Indispensable Guide to Navigating SVT is the recommended starting place of your healing journey before moving on to The SVT Prevention Diet, and SVT & Gluten Free guides. While food and diet play a large role in your SVT condition, it's important to first read about the Core Contributors to SVT and the daily management of SVT triggers in The Indispensable Guide. 
Imagine a life when you actually LOVE to eat healthy foods and fill your body with nutrient dense foods that satisfy you!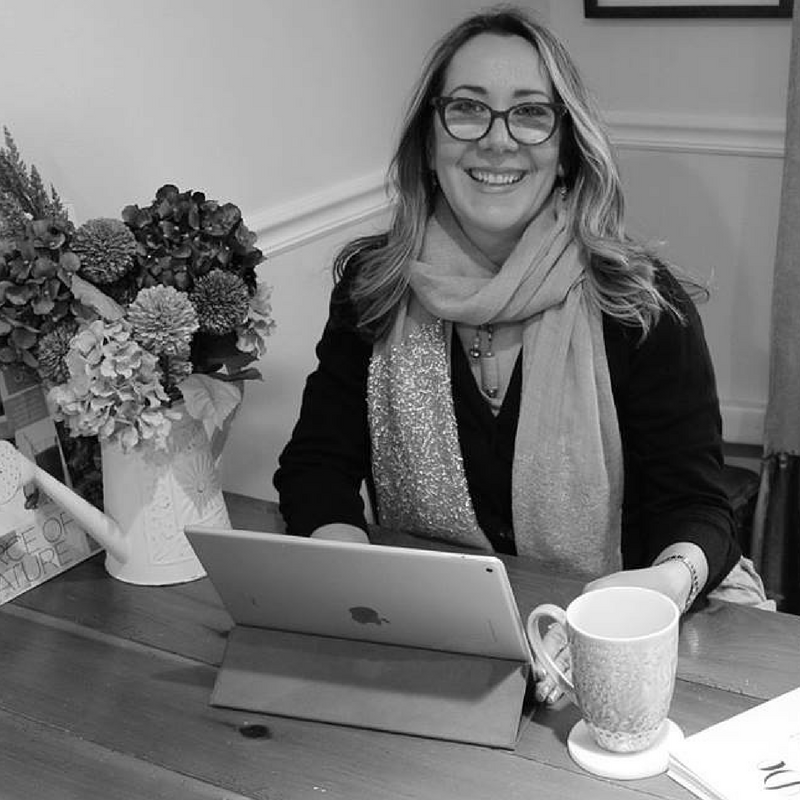 A Health Coach can help bridge the gap between you and your Doctor…
I will provide you with resources and support in the areas where your medical doctor is not trained. As a fellow SVT suffer and thriver, I know exactly how you feel physically and emotionally. I have walked my talk, healed myself, and know that it's possible to dramatically improve one's health. I understand that it can be overwhelming and difficult to change your food and lifestyle habits, especially when family and friends are skeptical or unsupportive.
I am a Board Certified Life Coach and an Integrative Nutrition Health Coach through the Institute for Integrative Nutrition, the leading school in the world for Certified Health Coaches. I can help you dramatically improve your life through inspired action from a whole new perspective of SVT and your health.  Let's walk this journey together!
"Hi. I am a medical resident specializing in cardiology…. I have always been lactose intolerant and after reading the blog will try to be on a gluten free diet."
"..this site is better than any doctor out there for information and compassion ….you are going to get better!!!."
" I have dealt with SVT many years ,I can't tell you how much your site has helped me.It is so great knowing there is other people that deal with it to.I remember the first time I was in the hospital in ICU the Dr came in and said what you have we don't know a lot about.That was 27 years ago. Im so glad Laura took the time to do this site.It not only helps physically but emotionally too.Your a very special life coach! I Thank you from the bottom of my heart !"
Your relationship with food is one of the most important relationships you will ever have in this lifetime!
Gluten free recipes to inspire you!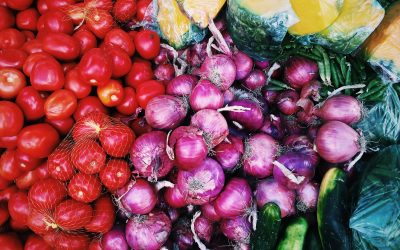 Adding more nutrient-dense fruits and vegetables to your diet is central to the Heal SVT Naturally approach. But, so is removing toxinslike agricultural pesticides from your body and environment. Still, most families worry that buying all organic will get too...
Links to top articles to help you get started! 
Want more recipes, information about food + SVT and motivation?
Sign up to be on my email list. Get my TOP TEN TIPS to heal SVT naturally, become a member of the private facebook group, and receive my weekly newsletter filled with information to help you!