I LOVE an easy plant rich meal that is of course naturally gluten free. This one has cheese, which I am about to decrease in my own life. You can make this without the cheese if you are already dairy free. If you do choose to use the cheese make sure it is organic like this high quality one I used from whole foods.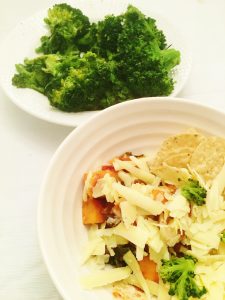 Add to a Croc Pot:
3 large sweet potatoes peeled and cubed
1 white onion
2 cloves garlic
any veggies you have on hand, I used cauliflower
1 can of organic black beans rinsed and drained
tablespoon of coconut oil
1/4 cup water
cherry or grape tomatoes
salt, garlic powder, turmeric powder
Let those ingredients cook on low for about 2-3 hours, then add:
3 large leaves of kale, washed and torn into small pieces
green beans diced
can of crushed tomatoes
1 packet if gluten free mild chili mix if desired, or season yourself with chili powder, cumin, dash of cayenne if desired.
Cook for another 2 hours
Serve with a side of sauteed broccoli and broccoli rape and gluten free chips of choice. Add cheese to top of chili if desired.
Benefits:
Plant dense
naturally gluten free
hearty
Sweet potatoes are an excellent source of vitamin A (in the form of beta-carotene), vitamin C, manganese, copper,  vitamin B6. They are a good source of potassium, dietary fiber, niacin, vitamin B1, vitamin B2 and phosphorus.
Kid friendly
Black bean are a good source of fiber, potassium, folate, vitamin B6, and phytonutrient content, coupled with its lack of cholesterol, all support heart health. Health benefits include the prevention of cardiovascular disease and aid in the regulation of the body's blood sugar levels.
Enjoy!