Part 2: Which Labs do You Recommend for IgG/IgA Gluten and Food Sensitivity Testing?
My personal and professional experience has informed my view that gluten is a major factor in contributing to SVT episodes, and that people with SVT have a disproportionately high incidence of gluten-sensitivity (which includes celiac disease).  Furthermore, most people with SVT also have other food sensitivities as a result of the gut damage and inflammation in their bodies. I strongly recommend that everyone get tested for gluten sensitivity/celiac disease, in particular, as well as other foods, so that you will know with certainty which foods are contributing to what I call the SVT-Gut connection. I describe this (my) philosophy in depth in my e-guide, The SVT Prevention Diet: The SVT-Gut Connection & the Power of Food to Control Your SVT and Transform Your Health.
The knowledge you obtain through lab testing will support your commitment to make the necessary adjustments in your diet and lifestyle for SVT Prevention.
An allergist/Immunologist or internist typically only tests for IgE allergies, which may be useful information for you to have, especially if you are prone to asthma or histamine reactions. However, if you are serious about improving your overall health, especially your propensity for SVT episodes, you must get tested for IgG or IgA sensitivities. This is an important distinction for you to understand because it will reveal which substances may likely be contributing to your SVT episodes.To be sure you understand this distinction please refer to Part I of this topic in last week's Blog: "What is the difference between food allergy (IgE) and food sensitivity (IgG/IgA) testing, and which should I do for my SVT? Read it HERE
Normally, your traditional doctor does not test specifically for the IgG/IgA response. The type of practitioners most likely to provide IgG/IgA testing are functional medicine doctors, naturopaths and chiropractors to name a few. Remember YOU are the one who has to specify and confirm with your practitioner/doctor that you want to be tested for the immunological delayed response associated with the inflammation I associate with the SVT reaction.
Traditional docs may not have the knowledge or option to order an IgG/IgA test. Therefore you can seek testing on your own through the labs that I list below or others that you find on your own. When looking for a lab, choose a provider like you would any other product: read internet reviews and call their customer service to find out exactly what they test for.My co-author of the upcoming SVT and Gluten Free-guide, Sharon Goldner, and I have both used the services of the diagnostic laboratories listed below, and have found our results to be reliable and useful.
While these labs may be out-of-network providers on your medical plan, getting tested may be one of the best investments you will ever make to heal and safeguard your body. Paying for tests out of pocket, can feel like a big expense, but for me,  it was a major step in giving me the exact  dietary guidance I needed to 1. Inform myself of my specific food sensitivities and thus 2. rid me of SVT root causes.
A general understanding of common food sensitivities, along with my anecdotal experience as an SVT Coach and Integrative Nutrition Health Coach working for years with people with SVT, is  part of what helped me to design The SVT Prevention Diet that I now recommend to our community.
Vibrant Wellness: Wheat Zoomer and Food Sensitivity Blood Tests
Contact Information: Sherleen Olson, Regional Representative, will direct you to local doctors to order your tests. Email- Solson@Vibrant-America.comCell- 908-902-4563  Learn more: www.Vibrant-Wellness.com
Vibrant-Wellness offers comprehensive, state-of-the-art testing to identify:
IgA and IgG reactions to gluten and wheat
Celiac Disease; wheat and gluten sensitivity
Intestinal Permeability (Leaky Gut Syndrome)
IgA and IgG immune reactions to 92 most commonly consumed foods
Complimentary phone consultation with specialized Dietician
Requires a doctor's prescription. (Again, this is usually a functional medical doctor OR, finding a doctor who is affiliated with vibrant wellness. You can look on their website or call Sherleen. She may be able to help direct you to a referral.
Entero Lab:  Comprehensive Gluten/Antigenic Food Sensitivity Stool Panels
And Gluten Sensitivity Gene Panel for HLA DQ2/DQ8
Contact Information: Customer Service 972-686-6869 or www.EnteroLab.com
"Recent studies indicate that sensitivities to gluten and other foods are far more widespread than believed. Expert testing has revealed that as many as one in three people are gluten sensitive, and for people who have symptoms and conditions, the number jumps to one in every two"!!
Entero Lab offers:
Genetic testing (cheek swab) to detect Celiac and Non-Celiac Gluten Sensitive genes. This is the easiest and quickest way for you to find out if you and your family members carry one of the HLA DQ2/HLA DQ8 genes associated with a gluten-related disorder.
A variety of stool testing panels that test for IgA reaction to gluten plus common food sensitivities
Test-ordering through their website; no prescription or doctor visit required. Results sent to you through email.
Phone consultations available with specialized dietician for an additional fee.
 One scenario that works for many people is to first get the genetic test at Entero Lab for $149 (and subsequently test family members if you carry one of the genes); and then go deeper and broader at Vibrant Wellness to get a measure of your immune response to wheat/gluten and 90 other foods.
These are just two labs that Sharon and I have experience with, remember there are more, you can research on your own, and specific to what's available in your state or country.
What to do after your lab results?
Once you determine the foods you are reacting to, you may need support in accepting the results, transitioning your diet, removing foods, replacing foods, and learning how to re-create your favorite foods without ingredients that are making you sick. Here are some resources that I provide, to support your next steps.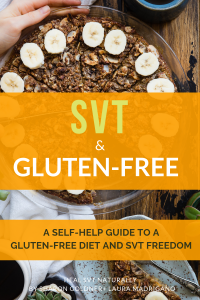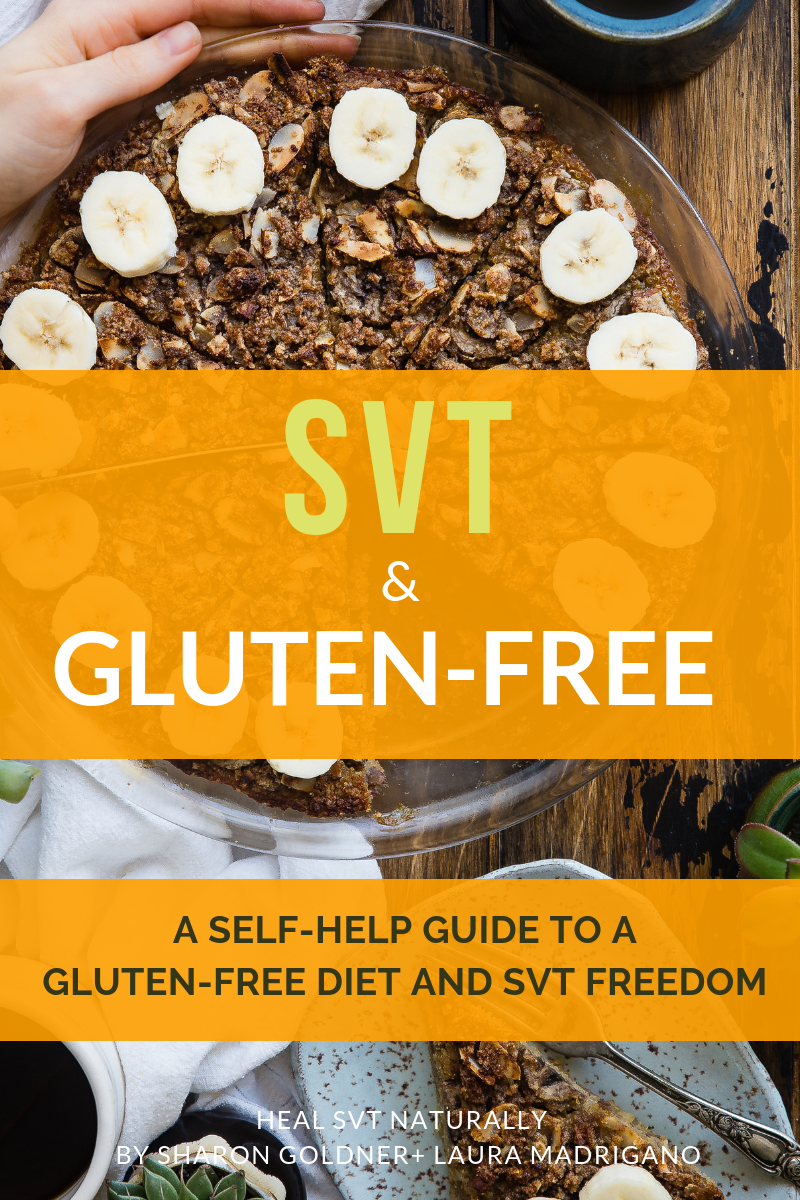 The SVT Prevention Diet E-guide- This 200 page downloadable color e-book explains in depth the SVT-Gut connection, foods to eliminate and why, and beneficial foods to add in. The Diet is specific to people with SVT, therefore it covers details that will help you reduce excess heat, another svt contributor. It includes recipes, food combining, and an entire section on dietary self-care for SVT.
The SVT-Gluten Connection- Learn more about how to replace gluten in your kitchen in my latest e-guide being released Feb 14th 2019 called SVT & Gluten-Free: A Self-Help Guide to a Gluten-Free Diet and SVT Freedom
My upcoming Group Coaching beginning in April 2019 will be an affordable option to gain support, direction and community to help you heal your SVT naturally and transform your life. Details coming soon
Private 1:1 coaching to work with me directly for 3 months. Learn more HERE
I CREATE self-empowerment tools to help people with SVT
I hope you will take advantage of the HEAL SVT Naturally RESOURCES I design to help you take back control of your health and your life. They are listed below.
Heal SVT Naturally RESOURCES for You:
Xo
Laura
Your SVT Coach