Sometimes I struggle with my food… I have days when I'm too tired to make myself something healthy or what I'm really craving. Sometimes I even lean toward emotional eating. (Beware when I start to crave Doritos and Ice Cream.)
But…I also know that when I really tap into my truth, I WANT to feed my body healthy foods. My philosophy to stay in sync with my truth as much as possible, is that eating healthy has to be easy ( not fancy) and quick.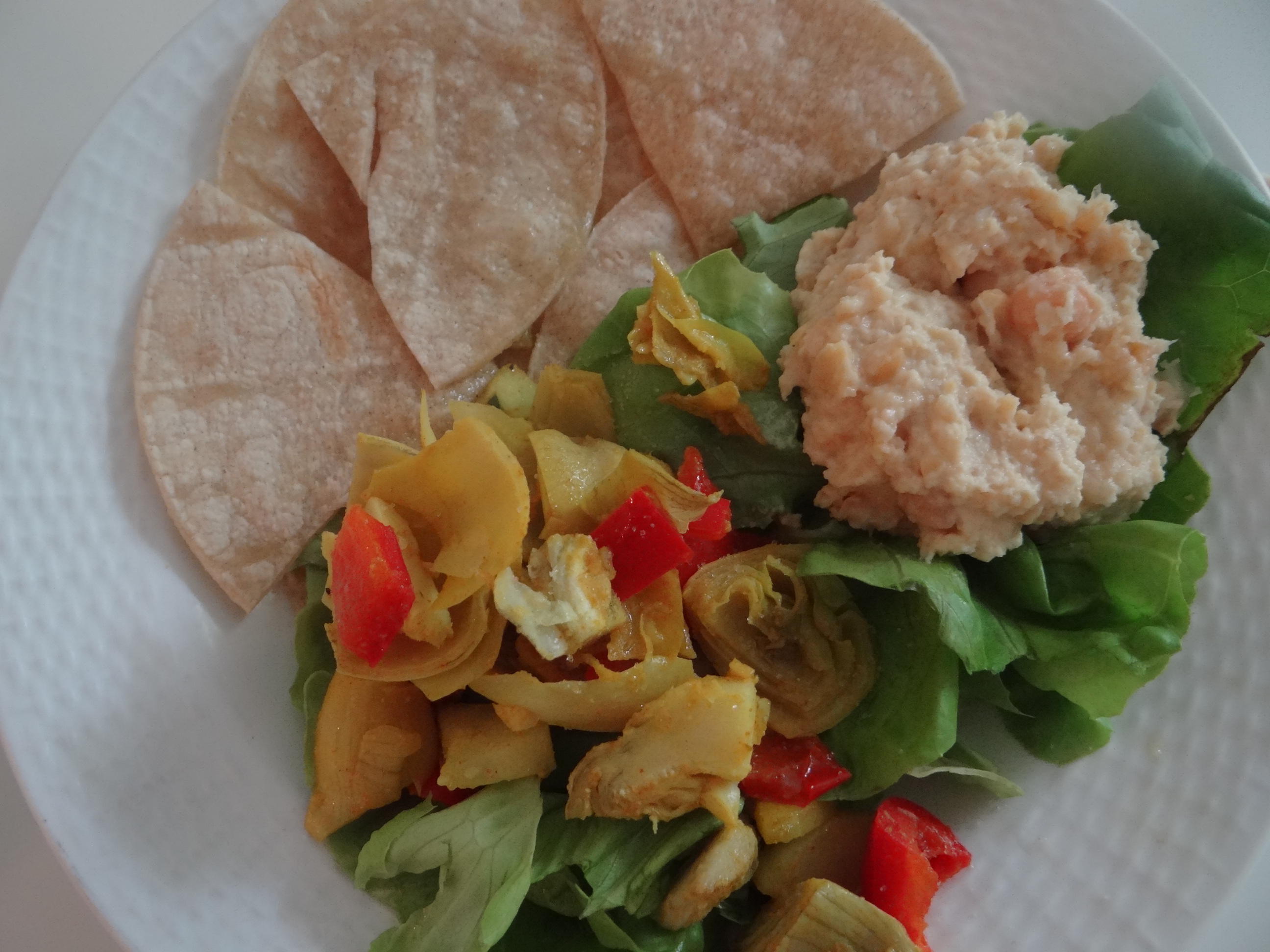 Today, I have to eat super healthy because I need my energy to last long tonight as I am teaching a "Journaling with the Chakras" class at my office. Anytime I teach at night, or know that I have a long day ahead of me, I really need to eat on track. Here's what I ate so far today…A smoothie with blueberries and almond butter. Brown rice and lentils with a little tahini, and now, I just made myself a nice Mediterranean lunch. It was fast and delicious…here's what I did: I toasted 2 Corn Tortillas and drizzled with olive oil and salt. I did not make them too crispy. I made my usual chickpea bean dip which is a staple in my diet. (So easy, put beans, olive oil, tahini, salt, water in a mini cuisinart). My son likes hummus too, so I took a scoop for myself and then spread his on 4 quinoa crackers. Then I quickly sauteed garlic, a red pepper, some cucumber and a jar of rinsed artichoke halves to go next to my hummus. The trick here is that anything you have on hand will do…I used cucumbers here…not a typical food you would normally sautee. (Be creative!). I knew that this quick tasty salad would not put me in danger of an SVT. Some ideas for foods to keep in the cabinet:
can chickpeas
olive oil
jar of artichokes
garlic
brown rice
lentils
some fresh veggies
You can whip up so many things with just a few basics that you always keep in the closet. My goal is to help you make your life easy so that you don't grab a slice of pizza or donut. Remember to breathe before and after lunch…and if your up for it, even a little mini affirmation before you take the first bite that says…"May this food feed my health and balance my body". Enjoy! What are you having for lunch?
f you like this video, check out my You Tube channel HERE
More Heal SVT Naturally RESOURCES for You:
Get my TOP TEN TIPS to HEAL SVT NATURALLY a free 14 page e-guide when you sign up for my email list for FREE HERE
Join The Heal SVT Naturally Private Facebook Group HERE
Download the Heal SVT Naturally E-books a HERE
Please comment below with any questions. I LOVE to hear from you and try to answer as many q's as possible!
I hope this info was helpful for you! Let me know
Love Laura
Your SVT Health Coach