I love a healthy sweet treat. I avoid white sugar but that doesn't mean I don't crave something sweet. I LOVE all the new wave cool recipes that everyone is coming up with these days. The options to eat baked goods in new and exciting ways is endless. There seem to be no rules anymore…even measuring doesn't seem to need to be as precise as with traditional baking…(which is right up my alley.)
Since Im trying to reduce my carbs currently, I decided to try some paleo treats lately and am LOVING them.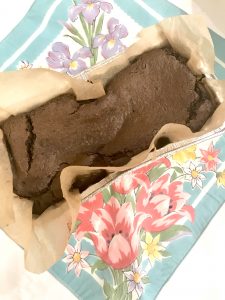 I got this recipe from Instagram and tweaked it a drop.
1 Cup Almond Flour
1/2 Cup Almond Milk
1/3 Cup Raw Creamy Almond Butter
1 Medium pre-baked Sweet Potato
1 Tablespoon organic vanilla
1 Teaspoon baking Powder
1 Teaspoon Baking Soda
1/4 teaspoon salt
1 Tablespoon Ground Flax Seed
1/4 Cup Melted Coconut Oil
1/4 Cup Honey + 1 Tablespoon Maple Syrup
1/4 Cup Organic Cacao Powder
Preheat oven to 350 degrees.
Line a small baking tin with parchment paper. Mix all ingredients in a cuisinart on pulse. Pour ingredients into baking tin. Bake for aprox 40 minutes. Use a toothpick to see if the inside is done.
These are creamy, almost like a molten lava cake with a more crispy top. They were warm, a bit gooey and delicious. Next time I am going to bake these in little individual heart silicones. In fact, I just ordered the tray off amazon…Stay tuned for the next batch!
When you have SVT, its best to avoid all gluten and white sugar. Since that is hard for some people to do, its essential that you learn to bake things that you can still enjoy that have health benefits and don't depress your immune system. Cacao is a super food, Almond butter is a healthy fat and protein, I used natural sugars which have nutrients and minerals and don't deplete your body just to digest it.
Play around with these new wave recipes, don't be afraid to swap things out, use whatever nut butter you have, add banana…be creative! Thats the fun of baking! And get the kids involved. If they are part of the cooking process, they are more likely to eat it and love it!
Enjoy!
More Heal SVT Naturally RESOURCES for You:
Get my TOP TEN TIPS to HEAL SVT NATURALLY free e-guide when you sign up for my email list for FREE HERE
Join The Heal SVT Naturally Private Facebook Group HERE
Get Heal SVT Naturally THE BASICS HERE
Get The SVT Prevention Diet E-book HERE
Download the Heal SVT Naturally E-books a HERE 
Please comment below with any questions. I LOVE to hear from you and try to answer as many q's as possible!
Have a favorite recipe and want to submit it for consideration on the blog? Email me at Lmadrigano@aol.com
Like my Heal SVT Naturally Facebook Page

HERE

 to see what Im cooking!
Love Laura
Your SVT Health Coach! xo