It's so important to eat an SVT Prevention Diet and load your body up with what I call SVT Prevention Nutrition.
Having access to a FAST, nutritionally dense breakfast, so that you don't opt for something loaded with carbs or sugar is essential to keep your sensitive body nicely fueled and SVT free.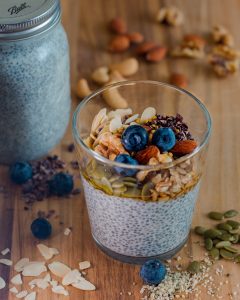 I like this overnight GF oat chia bowl idea because you can easily use whatever you have on hand to make this breakfast option as fast and nutrient filled as possible!
To prepare:  add the following ingredients to a glass jar with a lid. Place in refrigerator overnight to marinate. Then in the morning, either grab and go or transfer it to a pretty bowl and enjoy!
This bowl is a mixture of CHIA + GF rolled OATS. I like to MIX them both together for extra fiber.
1 tablespoon chia seeds
1 tablespoon gluten free rolled oats
1/2-3/4 cup almond milk
1 tablespoon ground flax seeds
1 tablespoon organic raisins
5 almonds
1 tablespoon pumpkin seeds. You can use whole or grind them into a powder
I like to add fresh sliced banana in the morning, you can add a few blueberries if you have those on hand.
*After you add all the ingredients to a mason jar, just add the lid and shake and then place in the fridge overnite.
I take my jar out early in the morning so that it can set to room temperature before eating it. This is a great on-the-go breakfast that you can be confident is providing you with nutrition, fiber and is SVT prevention friendly!
*Always ask your body if it is craving hot or cold prior to preparing your meal so that you are engaging your intuition and can adjust your meal accordingly!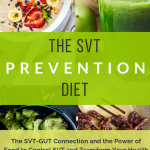 Eating to PREVENT and manage SVT is an essential TOOL in healing SVT naturally. To learn much more about SVT nutrition check out The SVT Prevention Diet e-guide. It is a downloadable colorful guide that you can read on any of your devices. It will help you learn about why you have SVT, my SVT-Gut connection theory, and how to use food to help yourself get your episodes under control.