Announcing
 the New Edition of my foundational E-Guide
The Heal SVT Naturally THE BASICS:
A New Way to Empower Yourself Through Your Journey of Healing
Available today!



As you may know, at the end of August 2017 I released this first E-Guide, originally titled, The Indispensable Guide to Navigating SVT. Since then, I have had new inspiration to add content and go deeper into some of the subjects. My hope is that it will motivate you to create the real and lasting changes to your health.
Special Pricing for a few days only. 
Everyone on my Email list and all of the Current Facebook members have a one time offer of purchasing this 72 page e-guide for  $6.99
(It is Free to those who have previously purchased it. Check your inbox for the newly released copy which was emailed out on Jan 2nd 2018)
As a special thank you, you are invited to participate in a complimentary live webinar, The Heal SVT Naturally Approach on Monday January 8, 2018 at 12:00-1:30 pm EST. It is a one-time exclusive offer for the people who already purchased the guide, and for those who purchase it this week.
The 90-minute webinar will consist of three 30-minute segments:
A Discussion of the main concepts of The Heal SVT Naturally Approach: A New Mindset; The Healing Spectrum: The Core Four Healing Layers, Prevention and The Work of Being Well

Open Q&A

Live Coaching
For those who are unable to attend the live event, you will receive a link to the recorded session, and be able to submit questions beforehand. Either way, I hope that you will take advantage of this opportunity.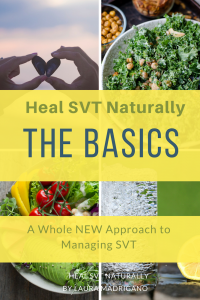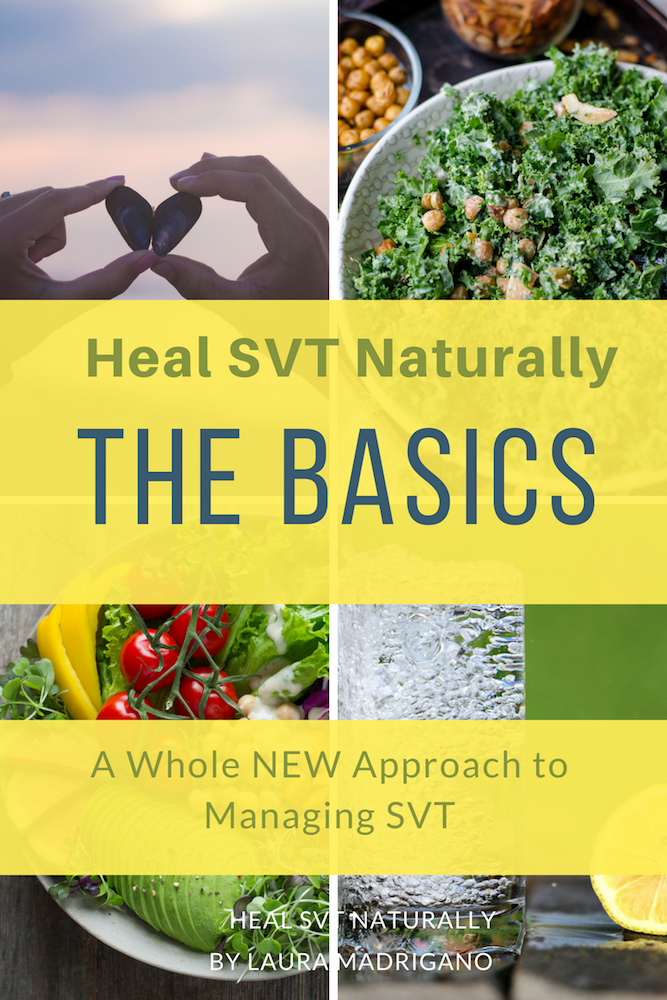 Read a few of the latest REVIEWS: 
"Thank you so much for your guide I received it from you and your email provider. It's wow, wow, wow! Worth waiting for. Need to spend time slowly taking it all in and applying it to my life. Really pleased."
"Thank you kindly for sending me your lasted e.guide. Not only was it really informative, but also very empowering too! Thanks to you, I now feel that I can conquer SVT with making some  life changes and altering my diet. Laura, you have given me the tools and now I will be able to make these episodes subside while doing it all naturally!I really do appreciate all the guidance you have given me. Thank you again."
  "It's a job very well done and a God send to fellow SVT sufferers looking for alternative help and care for a frightening condition. I'm on the Beta-blockers but turned down an Ablasion. I want to embrace a natural approach to SVT."
"Fantastic Laura,What a huge improvement you made. You've focused much more on the underlying causes. The guide is much more empowering now! Great job!!"
Thank you very much for being a Valued member of the Heal SVT Naturally community!
xo Laura Madrigano
Your SVT Coach
You can Follow or Like the Heal SVT Naturally Facebook Page HERE
More Heal SVT Naturally RESOURCES for You:
Get my TOP TEN TIPS to HEAL SVT NATURALLY a free 14 page e-guide when you sign up for my email list for FREE HERE
Join The Heal SVT Naturally Private Facebook Group HERE
Download the Heal SVT Naturally E-books a HERE
Please comment below with any questions. I LOVE to hear from you and try to answer as many q's as possible!
I hope this info was helpful for you! Let me know
Love Laura
Your SVT Health Coach