My SVT Prevention Daily Smoothie is a staple in my SVT Prevention Diet.
Smoothies were one of first changes I made to my daily routine and the one food addition that has helped to rebuild my health and keep my SVT free.
Smoothies are filling, Loaded with nutrition, easy on the stomach, and delicious!
SVT Prevention and management is not just about what you don't eat it's also about what you do put into your body!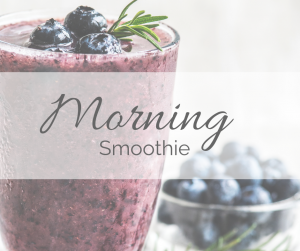 You want to focus not just on what you take away, but what you ADD in! I discuss the methods of crowding OUT, in The SVT Prevention Diet E-guide HERE.
I mix up what I put in my #morningsmoothie but it's usually:
1-2 bananas as a base. I like them RIPE
1 cup of frozen organic blueberries, or cherrie or both
GREENS: 2 cups of baby spinach, (frozen), kale and
Green Powder like Green vibrance, and SPIRULINA (excellent to help stabilize blood sugar).
Protein: almonds, almond butter, or walnuts
Additions: omega 3 oil, occasionally this Pea Based Protein Powder Thorne Mediclear 
 1 date or 1 tablespoon local HONEY.
I have been having a morning smoothie honestly almost for about seven years now and I swear by it as part of my SVT prevention daily routine.
What's in your smoothie?
To follow more of my daily recipes and smoothie and what I eat and do for daily SVT Prevention follow my instagram HERE