SVT and Food
If you are going to eat chocolate, look no further.
This is the BEST dark chocolate I have had in a LONG time.
We all TRY to like dark chocolate because it is "better" for us than milk chocolate and of course way better than processed sugary snacks. BUT, in case you have been pretending to like it more than you really do. (kind of like kale) then you are about to be pleasantly surprised.
OMG YUM! This Vegan, gluten free, dairy free chocolate with almond butter and puffed quinoa is heaven. So rich, and sweet and satisfying. I just ate 4 squares and savored every bite.
If you are able to consume occasional dark chocolate and are already avoiding all the major SVT trigger foods like gluten, white sugar, soda, processed foods, dead food and other junk, Then this is a great option for a healthy occasional sweet treat.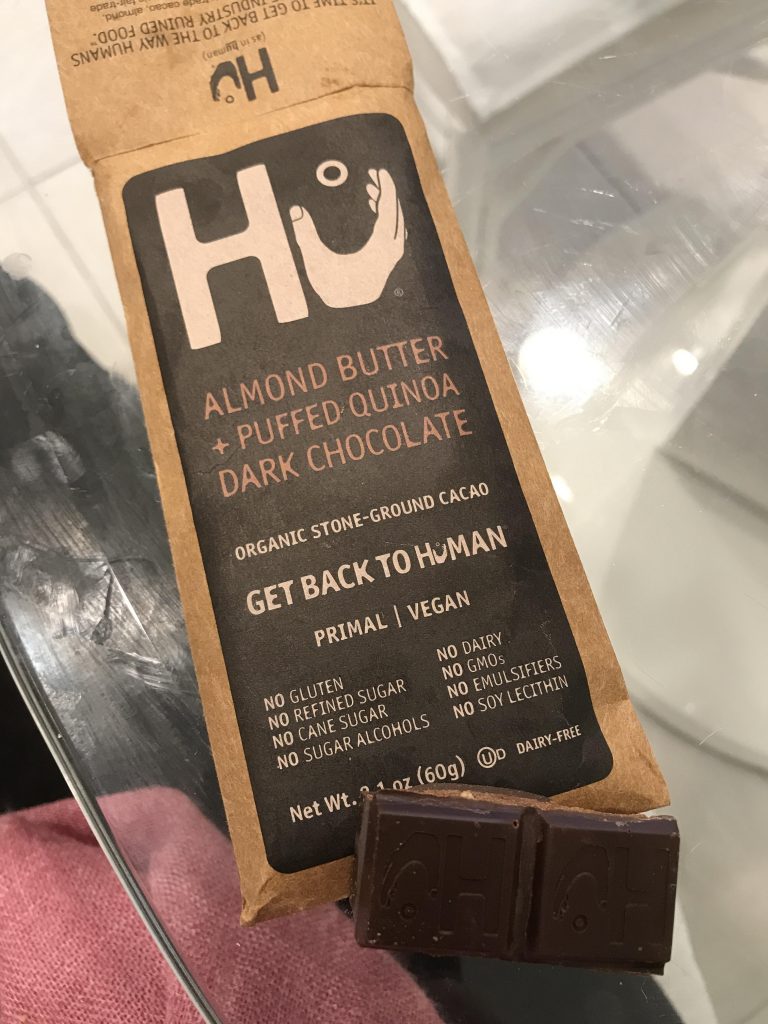 Hu Chocolate Label:
NO Sugar Alcohols
( even the quinoa is organic..thank you!)
Nice label. I really admire companies that are working hard to give us good ingredients…and to wind up with something this good is really no small feat. This is a real treat.
p.s. I bought this at Whole Foods.
Love Laura
Your SVT Coach
Label copied and pasted from their website:
Ingredients: organic fair-trade cacao, almond, unrefined organic coconut sugar, organic fair-trade cocoa butter, organic puffed quinoa – contains less than 2% of cashew and hazelnut
Allergy Statement: Contains almond, cashew, hazelnut, and coconut.  Produced on equipment which processes milk, eggs, soy, peanuts, other tree nuts, and wheat.
More Heal SVT Naturally RESOURCES for You:
Get my TOP TEN TIPS to HEAL SVT NATURALLY free e-guide when you sign up for my email list for FREE HERE
Join The Heal SVT Naturally Private Facebook Group HERE
Get Heal SVT Naturally THE BASICS HERE
Get The SVT Prevention Diet E-book HERE
Download the Heal SVT Naturally E-books a HERE
Please comment below with any questions. I LOVE to hear from you and try to answer as many q's as possible!
I hope this info was helpful for you! Let me know
Love Laura
Your SVT Health Coach