If you are feeling "off" try a scoop of green vibrance in your glass of water. Greens are so important. You will feel the benefits immediately after drinking…more alert, your eyes will open slightly wider, energized, clean, refreshing…
I use this brand called Green Vibrance. You can find it on my SHOP page here: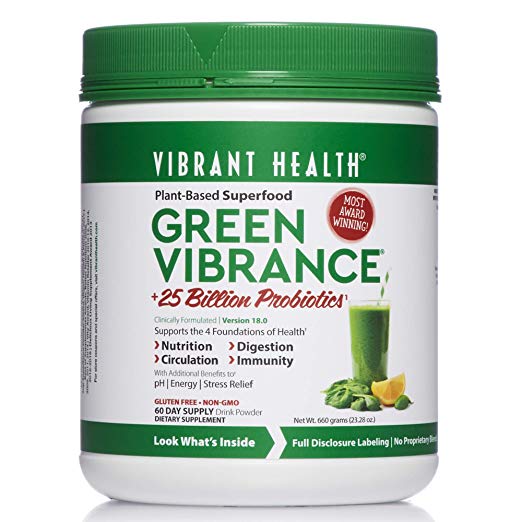 Green Vibrance
I started using Green Vibrance about 7 years ago. I would both drink it directly in water and then later use it as an additive to my morning smoothie.
GET YOUR GREENS: Green Vibrance is a plant-based superfood designed to support the four foundations of health: nutrition, digestion, circulation, and immunity.
EAT EXCEPTIONALLY: Vitamins, minerals, enzymes, and probiotics from over 70 ingredients help you stay well-nourished and ready to seize the day.
TOTAL HEALTH: Our formula was designed with multiple blends to work synergistically to support each system in the body.
EASY GREENS: Add to water or enrich your favorite smoothie with a heaping helping of vegetables, fruits, and 25 billion probiotics.
TRUTH, TRUST, AND TRANSPARENCY: You deserve to know exactly what's in your supplement. That's why we list every last ingredient.