New Research that Connects POTS to Gluten Consumption Has Implications for SVT
As you know, I strongly believe that wheat/gluten is a trigger for, or a contributor to SVT episodes for many SVT sufferers.  It has been a big part of my own story and frequently factors into the medical history of many in our community.  While I am not medically-trained or a professional researcher, I cannot ignore the correlations that I have experienced and observed over the past seven years that people with SVT frequently have symptoms of gluten-related disorders (celiac and gluten sensitivity).
For example, SVT sufferers frequently complain about fatigue, digestive problems, anxiety, migraines, depression, sleep problems and more—which are all symptoms of gluten-related disorders. In my personal journey of healing, it was after removing gluten from my diet did I experience the most dramatic improvements in controlling my SVT.  Lifestyle adjustments including managing stress and emotions was also important, but changing my food was an undeniable part of preventing my episodes.
Over the years I have coached many of my SVT clients to transition to a gluten-free diet and have witnessed similar results of reducing or ending their episodes.  I also experienced POTS (Postural Orthostatic Tachycardia Syndrome) intermittently with SVT and that too, stopped after eliminating gluten from my diet.
I have often lamented that little research is being done to prove the connections that I have observed because so many SVT and POTS sufferers could benefit from deeper research into the underlying causes of these conditions.  If research could prove that simply changing one's diet, without surgery or medication, could control SVT and POTS, the medical doctors would have to take notice, if not recommend to their patients. People suffering from these conditions are hungry for help in healing and taking back their life.
How surprised and happy I was to find an article about the research connecting POTS to gluten consumption in the June/July 2017 edition of Gluten Free & More Magazine by Dr. Amy Burkhart.   She reports that the European Journal of Gastroenterology & Hepatology in December 2016 found that "4% of study participants with POTS had celiac disease, compared to 1% of the general population." I would guess that a similarly disproportionate number of people with POTS (and SVT!) also have non-celiac gluten sensitivity at a higher rate than the general population (estimated at up to 40%!).2
This was a small research study but it gives me hope that cardiologists will be interested in learning more and will encourage further inquiry into the link between SVT, POTS and gluten consumption.  In the meantime, I heartily recommend all who suffer from POTS or SVT not to wait, but to get tested and/or transition to a gluten-free diet to test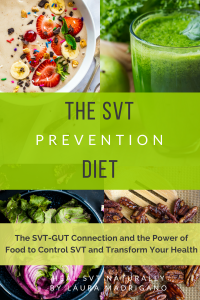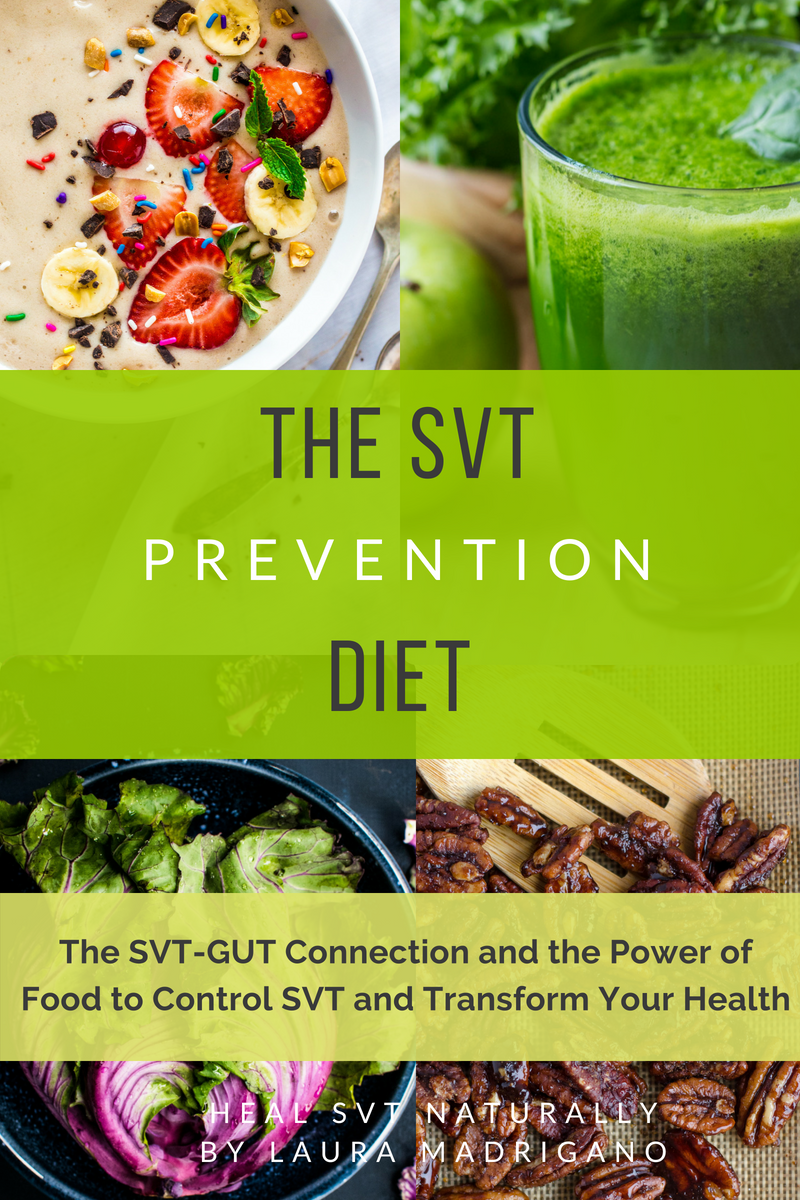 whether they see a reduction in episodes and other symptoms. See below for testing labs
Testing labs –  To get tested for sensitivity to wheat/gluten contact: 1) Entero Lab Customer Service at 972-686-6869 to discuss their testing options. www.enterolab.com.  Or, 2) Ask Vibrant Wellness at 866-364-0963 about their Wheat Zoomer test or email them at support@vibrant-america.com.
I write more extensively about diet in general and gluten in my SVT related e-guides and e-books available below:
The SVT Prevention Diet: The SVT-Gut Connection and the Power of Food to Control SVT and Transform Your Health. 200 page digital download $14.99 is available immediately HERE
Heal SVT Naturally The BASICS: 80 page Digital Download available HERE
My third e-guide, SVT and Gluten Free will be released this Dec 2018.
Read more about all of my Heal SVT Naturally e-guides and e-books  here.
Article Resources:
1 https://www.glutenfreeandmore.com/issues/20_4/Gluten-and-POTS-5225-1.html
2 Perlmutter, David. Grain Brain. New York: Little, Brown and Company. 2013. P. 32.
Other Heal SVT Naturally RESOURCES for You:
My TOP TEN TIPS to HEAL SVT NATURALLY 14 page FRWEE eguide available when you sign up for my email list for FREE HERE
The Heal SVT Naturally Private Facebook Group
Heal SVT Naturally E-books and Digital Downloads HERE
Please comment below with any questions I do my best to answer all questions and I love to hear from you and try to help you!
I hope you learned from this article, let me know!
xo
Laura Madrigano
Your SVT Integrative Nutrition Health Coach