The SVT Prevention Diet E-Book: What's Inside…
Food and SVT are intricately connected! The SVT Prevention Diet is the first work of its kind to introduce you to using DIET as Lifestyle medicine for SVT prevention and management.
This 210 page E-book explains my SVT-GUT connection theory, and how you can use gut healing protocols to begin to reverse the damage that undiagnosed food allergies and an inflammatory diet are having on your SVT.
It is the diet that I personally follow which has helped to keep me SVT free for nearly 7 years now.
In this comprehensive digital download, I  share with you my personal SVT-Food story, how I re-claimed my health by using DIET as my main tool to do so and how I developed my Heal SVT Naturally Approach along the way using the Core Four Healing Layers that I outline in my first e-guide,
Heal SVT Naturally, THE BASICS.
I break the guide down into 3 main Pillars:
1-Restore Digestive Balance
2-The Diet Details
3-Dietary Self-care
Here is an excerpt from the first two pages of the 210 page guide to give you an idea about what is inside…
Introduction
"Food and SVT are intricately connected. Heal SVT Naturally is the first work of its kind to introduce you to lifestyle medicine for SVT management and prevention. One aspect of this, is a core theory that I have been working on for several years, called The SVT-GUT connection. The SVT Prevention Diet e-guide presents to you this theory, and gives people suffering with SVT and related issues like anxiety, POTS (Postural Orthostatic Tachycardia Syndrome), panic attacks and digestive issues a clear diet plan to follow using food as one of your most effective, (and under-used) SVT management tools.
"In this lifetime, we have nearly 85,000 opportunities to have a healthy, healing interaction with food."
-Dr. Libby Weaver, Holistic Nutrition Specialist
Every day you make choices about food and self-nourishment that lead to the way you feel in the present and that impact your overall health in the long-term. You have control over these choices. You are responsible for your physical and mental well-being through what you eat, how you eat and the quality of the foodthat you eat. With every bite and every meal, you can take control of your health, your SVT and your destiny.
Over the years, all of your habits become reflected in your health and in my opinion, in the development, frequency and intensity of your SVT and related symptoms.
With self-awareness and integrative guidance, you can redirect the course of your SVT condition–even your life–by transitioning to new, healthier ways of eating and living.
The Creation of The SVT Prevention Diet
After my own experience using DIET + LIFESTYLE changes as some of my main TOOLS, I have become inspired and duty-bound to share with the world what eliminated my SVT, healed my POTS, reduced my SVT related fear and anxiety, restored my digestive integrity and allowed me to reclaim my life.
Providing nutritional and self-care strategies to help you manage SVT has become my mission and service to the SVT community.  It brings me great joyand fulfillment to help you embrace these powerful natural tactics that are within your reach as well.
The creation of The SVT Prevention Dietis the result of my personal experience in identifying food sensitives as a root cause of SVT, eliminating processed foods and white sugar, managing emotional eating and stress, and moving to a gluten-free, whole food and plant-focused diet.
This diet also evolved out of my continued SVT-GUT research, and coaching hundreds of people using integrative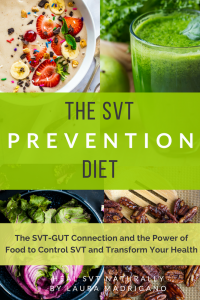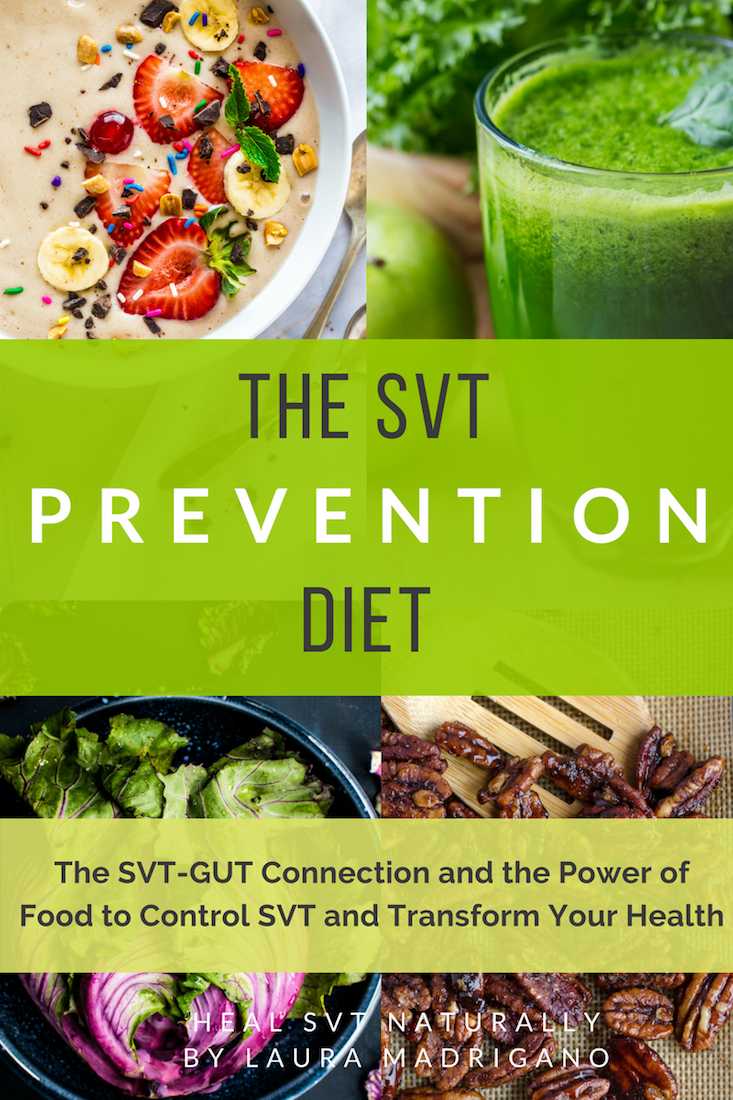 techniques that have provided rich testimony to the power of integrative nutrition on both physical and emotional levels.
My education from the Institute for Integrative Nutrition and my allegiance to integrative and functional medicine approaches is at the core of this eating and healing plan.
In addition to my formal education, I have incorporated aspects from other courses and certifications that I have completed in the past such as the year-long course, The Art of Extreme Self-Care, Chakra Wisdom Healing, and Nutrition for Optimal Healing.
Lastly, I have worked with an array of knowledgeable alternative healers, naturopathic doctors, homeopaths, massage therapists and acupuncturists during my own SVT healing journey. Much of the wisdom that I have learned from these fellow practitioners in the healing field are also woven into this guide."
WOW!
I haven't re-read that in a while and I must say, it's amazing how far I have come. I discuss my SVT story in the guide because I think it's important for people to know just how sick I was. It's an incredible reminder of how far I have come and the power of food and lifestyle and my main tools to help me get to where I am today.
This e-guide is much longer than originally anticipated and is 210 pages (more like an e-Book). I will eventually be publishing this into an actual book once I take some time to digest the guide, re-read it and make any further changes to it that I may feel called to implement.
I hope that you enjoy The SVT Prevention Diet E-book and that it helps you to get to the ROOT of your SVT.   DO share with me your thoughts, and what stood out to you most or how it helped you. I LOVE to hear from you and want to continue to give you the most powerful, relevant information possible.
Leave me any comments below and I will surely get back to you! Thank you!
Wishing you Love and Healing
xo
Laura
I CREATE self-empowerment tools to help people with SVT
I hope you will take advantage of the HEAL SVT Naturally RESOURCES I design to help you take back control of your health and your life. They are listed below.
Heal SVT Naturally RESOURCES for You: